WorkSpace Modular Industrial Grease Proof Work Safety Mats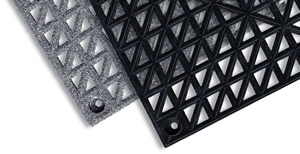 Description: Modular Design: Purchase 12" x 12" interlocking tiles by the case, 36 tiles per case, snap them together to create any size mat. Optional 2.5" yellow safety border is available
Also available with an aggresive carbide grit surface for extra traction and safety. Tiles are made from 100% recycled plastic. Recommended for Oily, greasy industrial commercial work cells, bar and kitchen wet areas, food processing work cells and more.
Product Specs: Construction: Rubber / Carbide Grit Product Height: 3/4" Shipping Time: 7-10 Business Days
Who Should Buy This Mat? You need a traction mat for your commercial industrial work area that is durable, modular & drainable. You require a surface with exceptional gripping ability & extra strength chemical resistance. You need a mat with greater visibility & beveled edges for safety.