Spectrum Standard Custom Logo Mats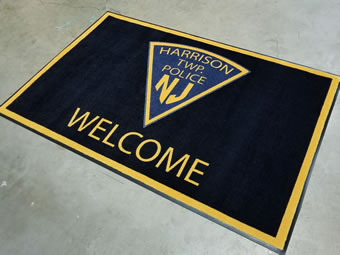 Please note that these logo mats / rugs are superior in quality & construction to comparable products you may see listed online such as Jet Print, or Classic Impressions.
Make a great lasting impression with your logo on a custom-printed carpeted floormat. These logo rugs are produced with high-quality, environmentally friendly dyes, providing vibrant color and clarity to your company's logo or message. Images are permanently dyed directly into a three dimensional nylon carpet and will not wear off over time. All carpets are treated with Perma-Dye™ plus Stain Stopper for long-term colorfastness. Strong rubber backing provides durability for residential or commercial areas. Use up to 8 Solid Colors from a 150 color pallet. Custom lengths of up to 24' are available. These are the industry standard logo mat / rug for interior or protected exterior use. They are suitable for anywhere that a dependable carpet style logo rug is called for. This floormat is ADA Compliant.
Cleated Backing: For Carpeted Surfaces (Carpet, Rugs etc)
Smooth Backing: For Smooth Surfaces (Tile, Wood, Marble etc)
Construction: Nylon Backing: Rubber Product Height: - 3/8" Shipping Time: 7-10 Business Days - call if you need expedited shipping.
Who Should Buy This Mat / Rug? You need a premium grade custom logo rug for commercial interior use or protected exterior use in mild climate areas. You're concerned with performance, excellent presentation & ease of maintenance.
Please Note: Customers Outside The Continental U.S. Please Call For A Customized Shipping Quote
Please Note: In the manufacturing process of this floormat heat is used to adhere the backing of the mat to the surface material, as a result the mat will usually be slightly smaller than the specific dimensions listed below. Typical shrinkage is 3 - 5% of the overall size of the mat.> Click Here To View Mat Shrinkage Size Chart