Frontline Standard Custom Logo Mat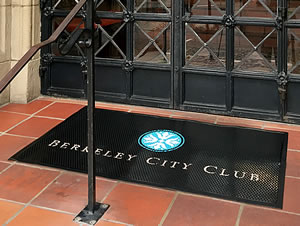 Great For All Types of Weather Conditions. Frontline All Weather Logo Mats offer multi-color logo images that are created by molding a digitally printed thermoplastic material into a nitrile rubber base, creating a highly durable, slip-resistant scraper mat which effectively removes the tough dirt, grime and water from feet even in the most high traffic commercial or industrial entrances. 20% Recycled Content. Impervious to sunlight & harsh elements these long-lasting logo mats perform beautifully in all types of weather. There is no limit to the color options available. The high-traction, bi-level surface effectively removes and traps tough dirt, grime and water from dirty shoes & keeps it below foot level. Static dissipative nitrile rubber is resistant to oil and chemicals. Beveled rubber safety border to prevent trip hazards. These commercial industrial grade mats are ideal for heavily trafficked entrances such as military bases, government facilities, schools, universities, convention centers, hotels, manufacturing plants, warehouses, malls, shopping centers, car dealerships or anywhere a sturdy and dependable all weather custom logo mat is needed.
Construction: 100% Nitrile Rubber Product Height: 150 mil Shipping Time: 10-14 Business Days.
Who Should Buy This Mat? You need an exceptionally durable personalized doormat for all season exterior commercial use. You're concerned with performance, effectiveness & superior weather resistance.
PMS Color Chips: For this mat you will need to choose your colors from the Pantone Color Matching System.
> Click to view available PMS colors.
Please Note: Customers Outside The Continental U.S. Please Call For A Customized Shipping Quote
| | |
| --- | --- |
| Mat Size | Max Logo Size |
| 2' x 3 | 20" x 25" |
| 3' x 5' | 25" x 48" |
| 3' x 10' | 25" x 96" |
| 4' x 6' | 36" x 53" |
| 6' x 6' | 53" x 53" |
| 6' x 8' | 53" x 70" |