FloorGuard Eco Commercial Entrance Mat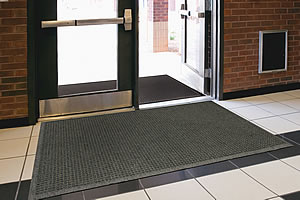 Please Note: Customers outside the continental U.S. or at an APO/FPO Box, Please send us an email with the size & quantity of mats for a customized shipping quote.
Made from 99.9% post consumer recycled material. This entrance mat is the most eco-freindly and ecologically responsible mat ever produced. The carpeted surface is made from 100% post-consumer PET plastic bottles. The all rubber backing is made exclusively of used automobile tires, preventing landfill waste. A high performance entrance mat for every occasion. Durable recycled backing is wear resistant. Bi-Level construction traps dirt below the surface. Fiber border for more fashionable aesthetic. Recommended as an indoor mat, but substitutes as an outdoor mat in covered entry ways or warm to moderate climates. Simple to clean, just vacuum or hose and dry.
Construction: Needle Punched Polypropylene
Backing: SBR Rubber
Fabric Weight: 24 oz
Product Height: 3/8"
Production Time: 5-7 Business Days.
Who Should Buy This Mat ? You need a ecologically responsible entrance mat for interior or semi exterior commercial use. You're concerned with effectiveness and earth freindly mat performance.
Please Note: In the manufacturing process of this floormat a great deal of heat is used to adhere the backing of the mat to the surface material, as a result the mat will usually be slightly smaller than the specific dimensions listed below. For instance a 3' x 4' floormat will usually finish off 33" x 44" rather than an exact 36" x 48". Typical shrinkage is 3 - 5% of the overall size of the mat.

Charcoal

Brown

Navy

Green