Airlift Diamond Antifatigue Floormat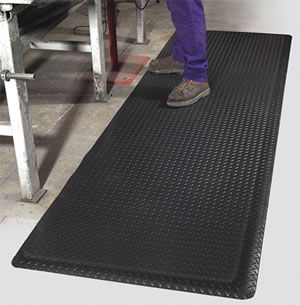 Durable PVC surface bonded with our technology to a resilient anti-fatigue closed-cell PVC foam base. Overall thickness 9/16". Industry favorite diamond pattern provides an abrasion and slip-resistant surface. Surface will resist common fluids, most chemicals and is nonflammable. Optional colored borders available. limited 3-year guarantee against wear and delamination. Beveled edges on all mats. Available in solid black & grey with yellow, green, red, blue or orange borders.
Construction: PVC Enhanced Foam & Surface Product Height: 3/8" - 5/8" - 7/8" Shipping Time: 7-10 Business Days
Who Should Buy This Mat? You need an extra comfortable, extra durable anti-fatigue floormat that provides traction and visibility for your industrial commercial workplace. In addition you need chemical & grease resistance.